Our Tactical shape and structure doesn't look right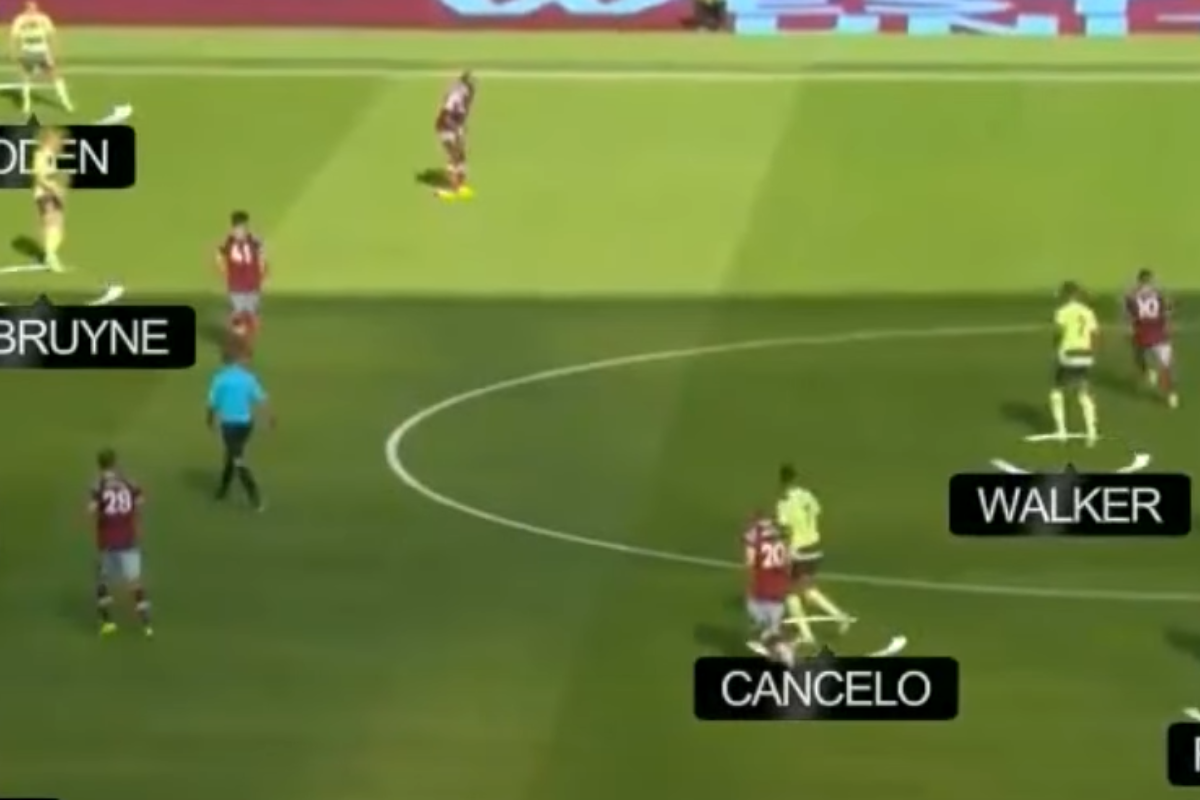 I can visualize Pep sitting quietly in his office and thinking about the lack of patterns and combinations yesterday. It looked like we were suffocating ourselves with the way we were set up. Space and width have always been the fundamental tenets of every Pep team. But, strangely this season Pep seems to have moved into a more vertical based approach. His desire to dominate the middle of the pitch means that opponents are defending narrow and flooding the midfield. It is quite obvious that space is out wide, yet we are not exploiting it enough with our full backs.
Walker chance in the first half tells a story
Around 5 minutes on the clock, Kyle Walker went on one of his trademark runs and the entire Villa defense was opened up. Strangely, he went for the shot, rather than pass it to Haaland who was unmarked. I know that most of us are still frustrated and unhappy with Walker's decision making. But, the thing I found even more frustrating was that Walker didn't attempt to make an other run like that. He was tucked in for the rest of the match and played in that inverted role.
It was very obvious from the beginning that the Villa defense was set up for the inverted full back system. Walker's run made it even more obvious. Yet, we didn't adapt and just continued playing through the middle like Villa exactly wanted. I want Pep to have a look at it seriously and involve our full backs in the attacking phase of play more often.
Rodri was marked out of the game
This is not the first time that an opponent has man marked our CDM. It has been happening since Pep's first season in England. But, the frustrating thing was that we continuously passed to Rodri even though he was under tremendous pressure. I also found it strange that Bernardo was not shifted into the midfield position alongside Rodri. This was the solution that Pep had been using for a long time to counter the ploy of Rodri being marked out of the game. I cannot understand why Pep didn't use it again.
Bernardo is someone who is unpressable and it is very difficult to snatch possession away from him. I am very confident that we would have much better control on the game if Bernardo was in the midfield position. Also, Bernardo would have helped us out defensively from that box to box role and we might have had an extra body to mark Leon Bailey. All of these details seem minor when we are winning, but they can prove to be the difference in a tight game like yesterday.
Bernardo, Gundogan and De Bruyne cannot start together
All of these three players are absolute world beaters and among the very best in the world right now. But, I do think that Pep trying to fit all of them in the same team is effecting the balance of the system. Bernardo on the right wing just doesn't seem to be working out. The problem is not in the quality of the player. It is about the lack of unpredictability in our attack. The other thing is that when Foden and Bernardo play together, everything just seems to slow down.
Both of them are cutting inside and the opponent is having a great time defending narrow. This is also having a knock on effect with Kevin De Bruyne having to turn into width provider by overlapping. This means that you are effectively reducing the impact of Kevin into half. In the middle of the pitch, De Bruyne had both the sides open and he could pass everywhere. By pushing him into a corner, you are making it easier for the opponent to anticipate what De Bruyne will provide.
Now, combine all of this with our full backs inverting and you have a system where the width is almost non-existent. I know that Pep is playing this system to prevent counter attacks, but I feel it is having a counter effect on our attacking play as well. There are more than a few things that Pep is not doing right here and Pep needs to quickly work out solutions to these problems. The schedule coming up is not kind and I can assure you that Antonio Conte will be looking to suffocate us next week with his army of defenders.