How does Haaland fit into this Man City side?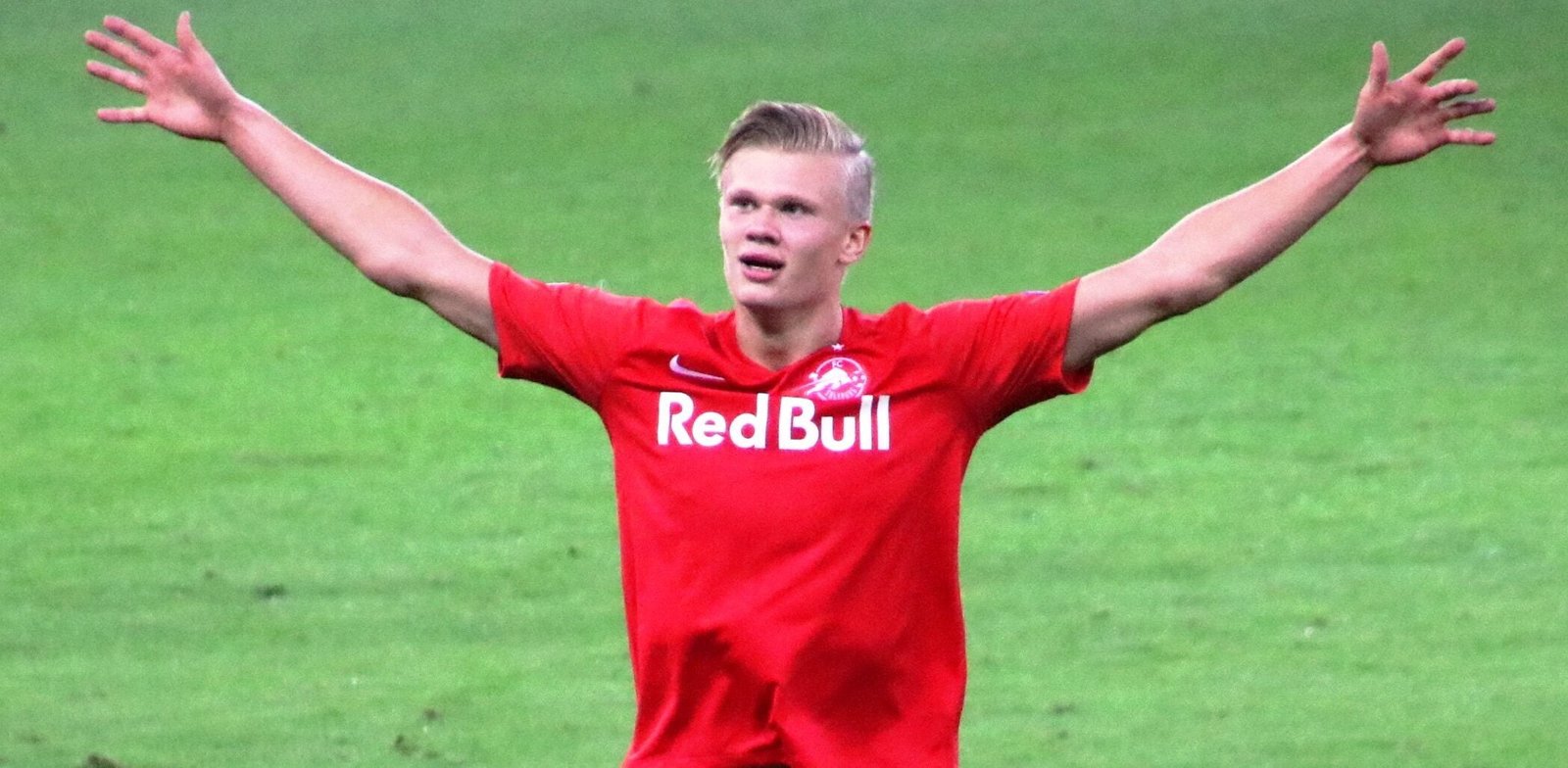 Following the departure of Sergio Aguero, City have become accustomed to playing without a traditional striker for the most part. Utilising a mixture of Foden, Bernardo and Kevin De Bruyne as a false 9, City have scored over 120 goals this season in all competitions. The prospect of adding Haaland to this side has had City fans dreaming of battering United 10-0, finally fulfilling the 'it should have been ten' adage. Fans of other clubs detract from the signing saying that he will 'never fit the system' or that 'he needs space to run into and he won't get that in the Prem.' With Haaland's official announcement (finally), it's worth asking how he will fit into the side and seeing if those concerns are unfounded or not.
City are arguably one of the most fluid teams in world football, with players seemingly interchanging at will. There is some sense in arguing that adding Haaland to the team would create a more rigid structure. Haaland cannot play on the wing like Foden can, for example, nor is he known for dropping incredibly deep to link up play. Haaland did have a 71% pass success rate this season, implying that he might not be a typical Pep player.
Look closer, though, and you can see why his pass rate is so low. Haaland will often use his big frame to back up into players, then look to flick a pass onto an incoming teammate. A clear example of this was when Dortmund played City at the Etihad, where Haaland played a smart first-time ball around the corner to Reus, who subsequently scored. Haaland's passing, in reality, is just average. When looking at his assists, the weight of his passes is good, but there is no reason to think he will be threading through balls with precision. After Pep gets his hands on him, his link-up play may end up similar to that of Aguero's, which is still excellent, but concerns interplay in and just outside the box.
Regardless, City don't have the pace on the wings to exploit these flick-ons unless Sterling plays, so it will be interesting to see if Pep utilises this ability. If Haaland does face away from goal, expect him to play a quick one-two before running beyond the last defender instead. The only City player to have prominently played flick-ons whilst backing into players is Gabriel Jesus – the most prominent example that comes to mind is against Chelsea at Stamford Bridge in the 2017/2018 season, where he bounced it back to De Bruyne, who subsequently smashed it in from outside the box.
Haaland can perform that role quite well due to his frame, but he is less likely to be dropping deeper to spray Kane-esque type passes across the pitch. Whilst this may hamper the fluidity of the City team, it may be beneficial in that finishing those chances aren't left to others. Haaland can instead hold his own inside the box with his physical frame and big leap, or use his searing pace to run into the box for a tap-in.
Importantly, during counters and transitions, Haaland will provide a different dimension to City. Haaland is excellent in transitions, just like De Bruyne. There have been multiple times where De Bruyne drives at the heart of a defence, but the surrounding players don't have the pace to get up field quickly enough. Or, times when City have had to recycle the ball instead of countering. This hasn't always been the case.
You'll remember during the 17/18 season that City were adept at both transitions and breaking down parked buses. During a counter, De Bruyne, Sane and Sterling all struck fear into the heart of the opposition due to their pace and decision-making. Haaland resurrects this fear exactly. With space to run into, De Bruyne can run counters knowing that a well-weighted through ball to Haaland will more likely than not result in a goal. As his time at Dortmund has showcased, Haaland is excellent at those 1v1 situations, placing his shots with both power and finesse.
And what about his pressing? Whilst not as vicious a presser as Bernardo or Jesus, he does put in the yards. For example, against Frankfurt, one of Haaland's goals came from pressuring the back line and pickpocketing the defender. He subsequently used his searing pace to evade the defender, slotting it home against the keeper. It's not a goal fans are used to seeing from City players, and it's this lethality in front of goal that City sometimes misses.
Interestingly, this lethality is best seen without the ball. Haaland's greatest quality is perhaps his off the ball movement, which truly showcases how good he is. Haaland makes clever runs, faking runs to the left of the defender before actually running right and beyond. His positioning is second to none, and during counters, this will be incredibly useful. Against parked buses, the balls fizzed across the 6-yard box will have someone at the end of them. And finally, the pinpoint De Bruyne crosses will finally connect with someone that is above 6 feet tall, hopefully resulting in many headed goals.
It's also worth noting that on corners, City will now have Dias, Laporte, Stones, Rodri and Haaland to contend for headers. City already lead the charts in goals scored from set pieces and adding Haaland only improves this, creating a dilemma for shorter teams. The team seen next season, depending on who else comes in or leaves, may have an excellent blend of physical and technical attributes.
Finally, whilst Haaland's frame implies a clunky dribbling style, this is not the reality. His touch is good, and he moves surprisingly fluidly with the ball. One just needs to look at his quick footwork against Leipzig to see this. He used to be quite small and wasn't as quick as he is now. He would often have to use his excellent attacking movement and dribbling to score goals, but after one summer, he suddenly added the physical frame to his game. This is likely why he has such a good touch and unique dribbling style. He won't be dribbling in and out of tight spaces like Foden or Mahrez, but he'll be able to make room for a shot, which is ultimately his job.
In all, no transfer is guaranteed to be a roaring success. We've seen this time and time again. Some cite the Bundesliga tax which has been seen with Havertz, Werner and Sancho where their numbers have drastically decreased. There may be some truth to this since most teams will play vertical, fast football with open spaces meaning there is more room to operate in to provide chances. However, with Haaland, his characteristics are too good to be covered up by a league. He has shown his quality in the Champions League against big teams, and so it is reasonable to think that this is unlikely to be an issue with Haaland.
However, he may indeed take the year to fully bed into the side, as seen with other Pep signings like Rodri and Cancelo. With Haaland though, his pace, physicality, touch and finishing are innate characteristics that will shine through, even if he does take a while to adapt. He may not get 40 goals in his first season, but he will likely get many important goals from his sheer finishing ability combined with the amount of chances City create. With a talent like Haaland, there is clearly no question as to his fit. His main qualities transcend any system, and anything else he lacks, can be learnt.
In closing, there is every reason to be optimistic that he will elevate City to a different level. Who knows, perhaps he will score 40 goals, 10 of which are against United at Old Trafford, before eventually dragging City to Champions League glory. The beauty of this transfer is the amount of potential this team will possess. City fans have begged for someone clinical to be on the end of countless crosses, through balls and passes, and we have only gone and gotten the most clinical player on the planet in Erling Braut Haaland.