Talking Points – Man City vs Nottingham Forest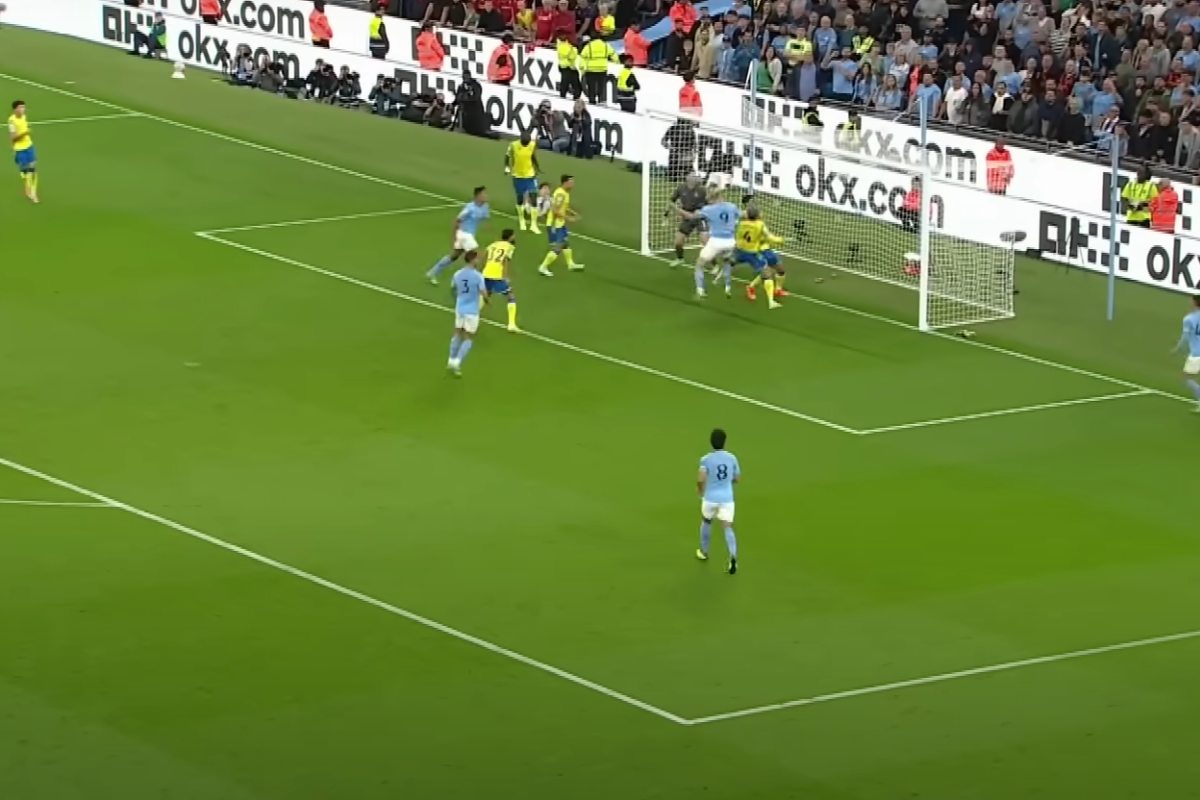 It would be insane for me not to start the article with Erling Haaland. All the talk in the Premier League circles is how do we even get close to him. The attributes of Raw strength combined with extreme agility is very rare and makes Haaland a phenomenon. I am quite sure that Haaland torments defenders in their most beautiful dreams as well. Such is the fear he injects into the opponents. But, this article will not just be about Haaland. I feel the work behind him is very important and lays the foundation for Haaland to do what he is doing. Haaland is the cutting edge of a machine in which the role and function of every part is as important as the cutting edge itself.
Alvarez is the complete Pep player
The fact that Pep let Jesus go, raised quite a few eyebrows at that time. The question was not about the goals from Jesus. It's the intensity and tenacity in his game that many people thought would be very hard to replicate. Little did most of the footballing community realize back then, that Pep had already found an improvement over Jesus in Alvarez. Alvarez is an extremely good presser of the ball and his Energy is quite supreme.
Add to all this, his goal scoring ability is extremely ruthless. They say in Argentina that if you create a player with 99 finishing in FIFA, that is equivalent to Julian Alvarez in real life. The position he played yesterday was very interesting to me. I thought he would play on the right wing, but his role in that pocket of space behind Haaland was the heart beat of the team. He was the trigger for the press and dragged defenders out of position.
The one shot that hit the bar in the first half was enough to rattle defenders. It sent a message to defenders that if you get too close to Haaland and leave me on my own, I can bang them in from outside of the box. All the talk will rightly be about Haaland, but we have unearthed an other gem in Alvarez. It just excites me so much to dream about our future when Haaland and Alvarez further understand each other. This could be a duo that the Premier League has never experienced before.
Foden and Haaland look to have found their frequency
Just like the combination of David Silva and Sergio Aguero combined for a humongous amount of goals, Foden and Haaland look set to replicate that feat. Foden was heavily involved in 2 of Haaland's goals. For me, Haaland's 2nd goal confirmed that these two have now understood each other. Foden was on a 1v1 with the Goal Keeper and he was surrounded by defenders. The clinching point was that Foden was constantly checking over his shoulder to find Haaland. This was something that we did not see in the Bournemouth or even the Newcastle game.
It was great to see both of them have a chat on the bench afterwards. This relationship has the potential to become one of the most brutal and ruthless duo for defenders. It suddenly seems that all of our players are developing that understanding and getting on the same wavelength with Haaland. Once this understanding develops even further , we will be able to see no look passes and first time crosses into the box even more. This will make the phenomenal Haaland something beyond any adjectives the English dictionary might have.
Stones and Cancelo back to their best
I know that both of them did not have much defending to do. But, I have always felt that both Stones and Cancelo are confidence players and you could see their lack of confidence in the games before this. I was strongly hoping that Stones and Cancelo get an assist or a goal from this game, just for their confidence. You could see a remarkable improvement in the way Stones moved and defended a 1v1 in the second half after his assist.
Cancelo has also looked lack lustre in the past few games. When was the last time you saw Cancelo being subbed off when City were in desperate need for goals. That Substitution of Cancelo against Palace was a clear indication of Cancelo being not himself and trying too hard. His tricks and skills were all failing and things were just not falling in place for him. This is the reason why yesterday's goal was so important to get our old Cancelo back. Like Stones, the goal seemed to give an injection of confidence to him and it was clearly visible in his movement on the pitch after the goal. Cancelo has not yet connected with the frequency of Haaland and when that happens I cannot even imagine the amount of destruction it would cause among Premier League defenses